Random Grumbles
by Frances Ng
Back
US Open and Roland Garros 2020 in the exact order
Wednesday October 14, 2020
We love our tennis 🎾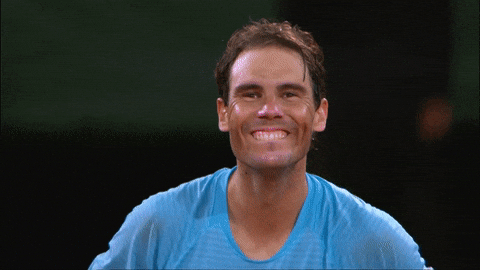 Just realised my last one on isometric art was on 23th August. It was on the same week when Western & Southern Open started (a.k.a. Cincinnati Open). That explains why it has been almost 2 months lol
For avid tennis fans who have all been thirsty with the almost half-a-year hiatus on both ATP and WTA tour, it was 2 great months.
Western & Southern Open (Hard)
US Open (Hard)
Rome (Clay)
Roland Garros (Clay)
In this crazy 2020 where abnormality is the new norm, bless Amazon Prime Video for securing all the live tennis streams (with extra shout out to Eurosports player lol). Hong Kong (Asia in general I guess) is not an place where you get the freedom to choose watching Round 1 Vondrousova v Swiatek in Roland Garros even though it is THE match-up from tennis fans perspective.
I think for a lot of us, watching this year's US Open bubble (along with Cincinnati) was truly a FIRST. First time you get electronic line-calling. First time players have to reached out for their own towels (should've been all the way). First time with ZERO fans allowed in stadium (actually not a first except for Chinese tournaments 💀💀💀). It is weird, but great. There were of course some covid scares despite the 'bubble' they called it, but generally in terms of tennis, it was greaaaat.
As a Naomi/Rafa/Iga stan (fan), it was extra great cos they all delivered.
Naomi
Naomi reached Cincy Final (but retired cos of hamstring) and then went on to win her 3rd(!) Major in US Open. The semi-final between her and Jennifer Brady is really THE slam match of the year imo. The first set clearly reminded us of the AO19 Final between her and Kvitova. It was tense, on-serve, no let-up until the tiebreak. This Jennifer Brady compared to the one a year ago is 200% better in terms of physique, shot-making. It was a match where both of them played well simultaneously the entire match, which is awesome and rare. She truly has transformed into a player which is not necessarily the kind to make no mistakes (as tennis is a game of error anyways), you can count on her to turn a match around somehow. She is still the roller-coaster ride player that you'll have to hang on to see what's in the end of a tough match. Suitable for emotionally invested fans for tennis enjoyment, it's worth it lol and then She didn't play Clay at all afterwards which is a good decision imo. :D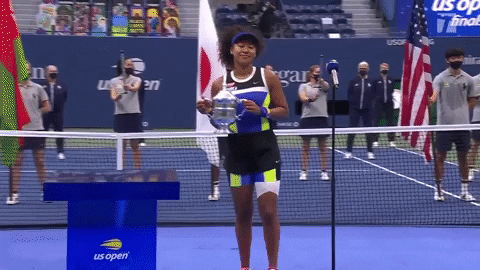 Iga
Iga...IGA! We hold early stock in Iga Swiatek, and did not expect her to win a Major this early. The way she won is not Ostapenko-ish. Iga literally rolled pass everyone. WITHOUT LOSING A SET.
Vondrousova 6-1 6-2
Su wei 6-1 6-4
Bouchard 6-3 6-2
Halep 6-1 6-2
Trevisan 6-3 6-1
Podoroska 6-2 6-1
Kenin 6-4 6-1
Saw a tweet on how her draw is sort of reversed lol. The Vondrousova match was jaw-dropping. She placed every single ball in the perfect position. Her defence was crazy, her forehand was crazy, her dropshots were crazy. Then the Su-wei match she dipped a bit in the 2nd set but she managed to bite through. I can literally write essay here.
And the match against Halep. Did anyone expect that? I think a lot of us did expect Iga to do better than last year when she lost 6-1 6-0, but not slaughtering Halep. The most impressive thing throughout the tournament of her for me is of all the matches she won, it was not because of her opponents making tons of stupid/UE. She really won all of them with her game. More to come IGA!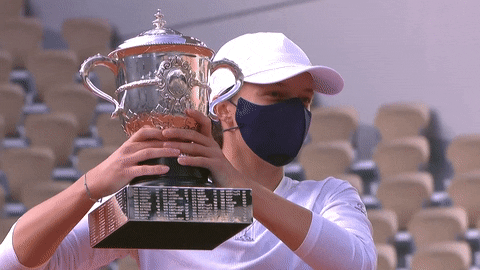 Rafa
And lastly Rafa. At age 34, he won his 13th French Open. Repeat GIF. 20th Major in total lol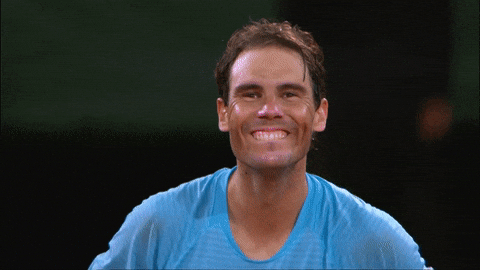 Maybe even himself was not expecting this extremely high level of play to come into place in the Final against Djokovic (and most of the more logical Rafa fans weren't expecting much tbh). Again, this explains why a lot of us still love watching him so much. He really pushes himself and never ever give up on points. In this year's slow clay condition, you see a lot of not-giving-up-defended-a-winner sort of winner. He is truly invincible on clay.
It was two great months of shitload amount of great tennis delivered.
WTA tour side this season has ended (almost). So looking forward to ATP Finals in November. Last edition in London (maybe with no fans?). It is extraordinary year for all walks of life. We never would have imagined this when we were sitting in Rod Laver watching Australian Open in Janauary.
---
omg I am such a crazy tennis fan.